With the SureView Field Operations Mobile app's Manual Raise feature, Field Officers can create new alarms in as little as two screen taps. This immediately alerts the Security Operations Center, providing the officer's real-time location, and allowing the operator to contact the appropriate parties or even dispatch additional officers to the incident.
Mobile Manual Raises can be used for anything from security concerns, such as suspicious activity sightings, to routine maintenance requests, such as a light bulb outage. The types of alerts to which each user has access. is entirely configurable from within the interface, keeping the view flexible for operations with multiple types of patrolling officers.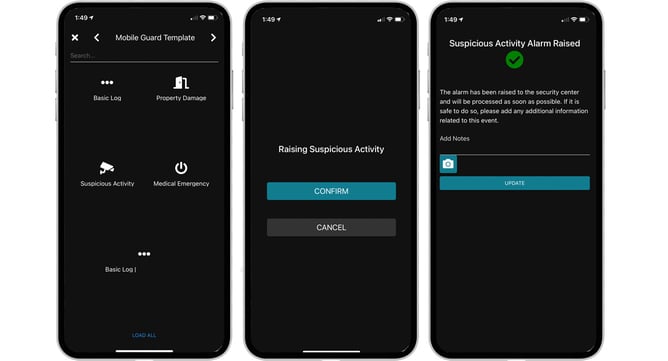 Officers responsible for multiple buildings can manually select a location for an alarm from your list of Areas. This will automatically include their GPS location which can be manually refined by the Officer to better inform the Operations Center of the incident.
The SureView Field Operations Mobile app is available for both Apple and Android phones and tablets which means that your Field Officers don't need any special equipment other than the phones they already use.
The SureView Mobile app Manual Raise feature is another way Ops works to connect your team members, bringing 'boots on the ground' one step closer to your operators.  Request a demo today and start your 30-day-free-trial to discover for yourself all that SureView Ops can do for your team.